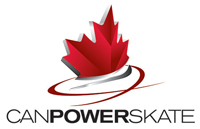 What is CanPowerSkate?
CanPowerSkate is an action-packed, high energy instructional power skating program geared to hockey and ringette skaters that focuses on balance, power, agility, speed and endurance. Skills, techniques and conditioning drills are taught in a progressive format that emphasizes how the skills apply to game situations. CanPowerSkate provides an alternative to figure skating and is an excellent complement for those athletes playing on hockey or ringette teams. Its unique skill award program provides incentives and motivation for skaters to continue to achieve.
Whether you're gearing up for your first season of hockey or looking to improve your skating abilities, Cypress School of Skating has a CanPowerSkate program to suit your needs.
Explore available programs using the menu for more information.